With the exception of GameStop current stock rally, no other gaming stock has experienced a massive price surge as NeoGames did recently.
Last Updated on June 10, 2022 by Dave Hall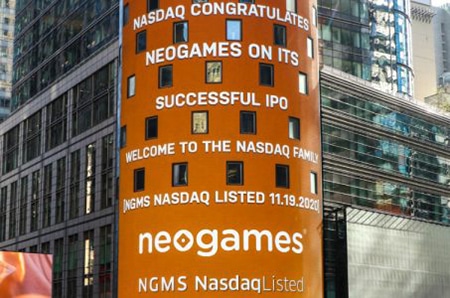 With the exception of GameStop current stock rally, no other gaming stock has experienced a massive price surge, as NeoGames did recently. By close of business on 31 December 2020, its stock surged by 46.83%, to close at USD 37.99.
It has since dropped and levelled off at about USD 28.93 as of January 29, 2021. Still, that is much higher than its closing price of USD 12.22, on November 18, 2020. The price surge came about after Michigan Lottery added four years to its iLottery contract with NeoGames.
NeoGames S.A., listed as NGMS on Nasdaq, provides cutting technology iLottery solutions, and it's a subcontract to Pollard Banknote Limited. Pollard Banknote is listed as PBL on TSX, and it has partnerships with over 60 lotteries globally.
Pollard Banknote and NeoGames
The extended agreement will allow Pollard Banknote and NeoGames to provide Michigan players with the best lottery gaming experience.
Their iLottery service will include instant interactive and draw games, player support, customer acquisition and marketing programs, compliance operations, banking payments, and processing claims.
The two also supply gaming solutions to four other iLottery programs in North America, under their NeoPollard Interactive LLC joint venture.
It's therefore not surprising that eGaming Review recognized them as North America's Lottery Operator of the Year in 2020.
The recognition is not just because of their substantial market share – but also their innovative iLottery gaming solutions, payment solutions, and consistent revenue generation.
NeoGames Renewed Pact
The current pact was to expire in July 2022. Now, the new accord now that takes effect in July 2022, will push it to July 2026. Obviously, that was a huge relief for Michigan's biggest public gaming customer's long-term investors.
That gave NeoGames's stock an overnight price surge. The surge is a clear pointer as to how much the Midwest state means to NeoGames' online casinos.
Steven Wieczynski
According to Steven Wieczynski, a Stifel business analyst, iLottery's gaming revenue in Michigan has continued to rise since 2015.
So far, its compound annual growth has been at 64%, for the past five years. That has pushed its revenue from $19 million, to over $219 million. The growth has come mainly from instant game sales, thanks to the increasing popularity of online casino games.
Shareholders believe the Wolverine state contract with NeoGame to be impactful. That's because the state is an emerging online gaming market. Its large population also guarantees a bigger market, once the growth curve flattens.
A majority of the investors felt that NeoGames may become a risky stock, if the Michigan Lottery deal were to expire. Many retail investors feel that many of the gaming stocks are overpriced. Therefore, many of them consider it risky to invest in businesses without a sure market.
That way, even if stock prices were to plummet, they would still readjust upwards, after the announcement of quarterly profits.
Michigan Contract is Crucial for NGMS
Wieczynski agrees with them saying that with the Michigan contract accounting for over half of NGMS' revenue, those concerns are justifiable. However, he added that it was unlikely for the state to fail to renew the contract.
Often, the costs associated with switching vendors often outweigh its benefits. Therefore, 90% of the time, states choose to renew state lottery deals. However, for states that choose to switch vendors, they do so because of new laws, or drop in revenues.
Furthermore, while online casinos and online sports are getting the most coverage in gaming press, investors cannot ignore iLottery. The industry has continued to grow in leaps and bounds, even though it yet to match online casinos revenues.
With NeoGames dominating the iLottery market, and many states seeking new revenue avenues, iLottery could be what they need. Most states are already relying on traditional lotteries for direct revenues, so legalizing iLottery won't be hard.
NeoGames vs. Online Casinos
However, iLottery still lacks exposure, which has limited the interest it gets from potential investors. Fortunately, that is likely to change as it continues to get media coverage, when you consider the attention online casinos have been receiving.
With that in mind, Wieczynski says they believe NeoGames is likely to receive overwhelming interest, once it is popularized.
He concluded that NeoGames is likely to grow its earnings before interest, taxes, depreciation, and amortization (EBITDA) at a rate of about 30% annually, from 2021 to 2024.
Doug Pollard
Doug Pollard, Pollard Banknote's Co-Chief Executive Officer had something to say about iLottery as well. He stated that the Michigan Lottery has achieved great success in the past few years.
He said their collaboration with Michigan Lottery had given a deeper understanding of the Michigan Lottery market. With that knowledge, they have been able to tailor their tech-products for Michigan players.
In addition, their strategy is working, which is evident in the increase in revenues, coming from mobile and online channels. He concluded by saying they will continue to deliver advanced tech products, for greater success of Michigan's iLottery program.
Shannon DeHaven
Shannon DeHaven, Deputy Commissioner of Gaming Operations, commented on iLottery's success. His focus was on generating revenue for Michigan schools, for the past several years.
He said their success was because of their commitment to delivering exceptional gaming experience to players.
Moreover, he attributes the success to their unique understanding of the iLottery ecosystem and business. He concluded by saying they look forward to continuing their efforts to generate revenues.
Moti Malul
On his part, Moti Malul who's NeoGames's CEO, said they felt honored for the opportunity to renew the partnership contract. He also attributed that to their innovative approach of operating the Lottery.
He added that they had worked closely with the Lottery in various ways. That included introducing new and exciting games, as well as introducing innovative lottery solutions. Overall, their goal is to enhance players' online gaming experience.
He concluded by saying that he hoped for greater success in the coming years.
Pollard Banknote – Lottery Management
Having started in 1907, Pollard Banknote prides itself in having decades of helping lotteries grow their profits. It does that by maximizing player engagement, sales, and promoting good causes.
Its products include pull-tab tickets, Diamond Game, bingo paper, and electronic ticket machines that they have branded "Oasis". They provide these products to customers through charities and various North American gaming markets.
The Pollard family owns about 67.3% of Pollard Banknote, while 32.7% is owned by the public shareholders, on the TSX (PBL) listing.
NeoGames – Online Lottery Games
NeoGames focuses on providing state and national lotteries with iLottery services, using their technology-driven innovative solutions.
Their proprietary solutions, gaming operations experience, and expertise, are what drives their pioneering game studios.
That's why players continue to find their portfolio of online lottery games to be engaging and entertaining. Even with the increasing competition from online casinos, it remains a trusted and profitable online lottery partner.
Overall, it excels in providing enjoyable iLotteries to players, while making the program profitable to state lotteries. It also makes sure the good causes benefit from its profits.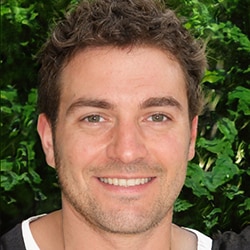 Dave is a gambling enthusiast who boasts of two decades of experience. His writings not only unravel the intricacies of online casino games but also explore the psychology behind betting. Dave's commitment to responsible gambling shines through, making every wager a mindful choice for players seeking a thrilling yet balanced gaming experience.