Are Online Casinos in the USA Legal? A grey area in the online gambling world. Learn all about the United States Gambling Law for US players.
Last Updated on September 14, 2023 by Dave Hall

Are Online Casinos in the USA Legal?
Most of us agree that it is fun to play on online casinos, but is it legal? Well, if you live outside the US, then most likely that question has never bothered you. For US players though, this has been a little grey area, which is why we decided to write about online casinos based in the USA, for US players.
For online US casino players, there is no law barring them from placing bets or wagers on online casinos. However, the federal law criminalizes the act of enabling placing of bets and wagers online, unless the state law approves it. Read on to find out what to expect from online casinos.
Federal Law
The Federal Does not prohibit US players from placing bets or visiting online casinos. In fact, there is no record of a player prosecuted by the feds for placing bets online. If you were to run afoul of the law, it would be state law, and not the federal law.
According to the Remote Gaming Legislation in The United States by Alex Binkley, the placing of bets is not criminalized. The Department of Justice's interprets the Wire Act on gambling to mean it is only illegal to take wager over the phone or internet lines. However, placing of bets by players is not criminal. Therefore, under federal law, you are not breaking the law for placing bets or wagers on online casinos.
However, the 2006 Act does not place any restrictions on state law with regard to control of online gambling. It only prohibits financial institutions from aiding the transfer of funds from gambling, if the State laws have already outlawed the gambling act. In that regard, as a player, you only need to worry about what your State says about online gambling.
Four states have already legalized online casinos, but most of the more conservative states are yet to legalize it. Still, even in states where it is illegal for online casinos to offer their services to players, players face no such restrictions. Therefore, the main challenge faced by US players is that of easy access to funding methods when accessing online casinos.
Law Loophole
As you will gather from reading the Wire Act, restrictions are placed only on the institutions that promote online gambling. These institutions include the online casinos, banks, and the credit and debit card processors. The choice to control the enablers of online gambling and not the players, makes the enforcement of the law efficient. Without the means to wager your funds, there is simply no way you can use the services of online casinos.
However, there is a loophole. The Wire Act emphasizes that it is illegal for payment processors to knowingly process payments, but it doesn't say those who do it without knowledge that the funds will be used for gambling are guilty of breaking the law.
Cryptocurrency
That is where Bitcoins and altcoins come in. Most casinos that offer their services to US residents do it by simply accepting Bitcoin and other altcoins. That allows players to use a decentralized payment system that does not need any centralized approvals to approve transactions.  They also do not have to find out what the user will do with the funds they are requesting to transfer to a new address.
That loophole works well with the legalization of online gambling in States such as Delaware, Nevada, New Jersey, and Pennsylvania. It is therefore easy to see that the online gambling scene is widening for US players.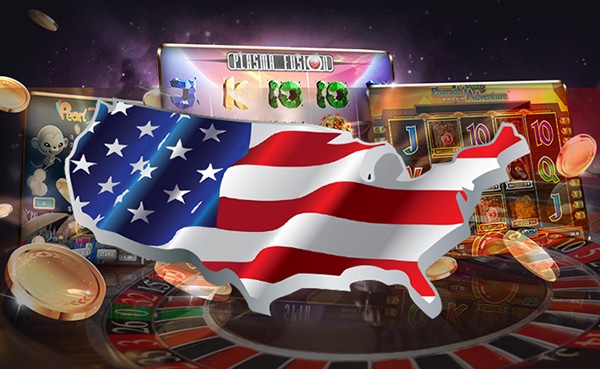 States where US Online Casinos are Legal
New Jersey
If you live in New Jersey, you will be glad to know that you can access online casinos that are not breaking the State law. The State of New Jersey allows casinos to apply for a gambling permit and offer online casinos games such as online poker. The legislation has allowed the casino business in Atlantic City to flourish, and many expect the online casinos total revenues in New Jersey to exceed $1 Billion by the end of 2018, since their launch. Moreover, the Supreme Court ruled in the favor of State law, declaring that the Federal law does not limit the right for each state to legislate on sports betting.
When the Supreme Court made its ruling, the state of Delaware became the first one to pass a law legalizing sports betting.
Delaware
Delaware was the first state to legalize online casinos and gambling sites in 2012, with the first sites launching their services in 2013. The games offered by these sites included Roulette, Blackjack, Video Poker, and Video Slots. While its gambling market is smaller when you compare it to other States, Delaware managed to generate over $3 million in casino revenues in 2016. Delaware is therefore among states that are quite liberal when it comes to online casinos.
Pennsylvania
Legislation that promotes online casinos in Pennsylvania came into effect in October 2017, when it passed a bill that expanded legal gambling to include online casinos. The new law also allowed the State of Pennsylvania to participate in interstate pacts with regard to gambling. Such pacts include the current one between the state of New Jersey, Delaware, and Nevada.
The market was quite receptive to the change in legislation to support online gambling, which is why revenues from online commercial gambling to come second to only those of Nevada. However, even with legalization of online casinos in PA, the licensing fees of $10 million are prohibitive for startups.
Sates where Online Casinos may soon be Legal
California
It is interesting to note that while CA was the first state that passed the DFS legislation, the bill died at the Senate. A similar fate befell the online gambling legislation. Major stakeholders that included lawmakers, brick and mortar casino operators, and potential online casino operator failed to come to an agreement. If the major differences and interests that exist among the major stakeholders are resolved, CA's legislation will easily pass into law. As of now, if you are a casino player in CA, you just have to use the services of casinos licensed outside of CA.
Illinois
Just like in CA, Illinois faces similar challenges where the legislation that legalizes gambling and its expansion to include online casinos cause divisions among lawmakers. In 2017, the state failed to pass a bill that would have legalized online casinos.  The bill failed to get the required support of lawmakers from both chambers. There is still hope that in 2018, the lawmakers will come to an agreement that legalizing online casinos will do more good than harm.
Massachusetts
While Massachusetts has for a long time fought to keep off even traditional casinos out of its jurisdiction, in 2011 it passed the Expanded Gaming Act, which allowed the establishment of the first brick and mortar casinos. Moreover, a committee created by the DFS bill, recommended that the state should consider regulating online casinos, and therefore legalizing them, because the state stands to gain socially and economically from doing it.
New York
While NY has traditionally been a haven for native casinos and racetracks, it has been slow in passing bills that would allow online casinos to offer services to residents. Most lawmakers, especially in Assembly is that the online casinos will saturate further an already crowded market. In the past years, the Senate actually passed bills on online gambling, but the Assembly ignored them. However, as other States continue to approve and legislate on online casinos, New York may follow suit.

It is Legal to Play Online Casinos in the USA?
Generally, you do not have to worry about finding yourself on the wrong side of the law when gambling on online casinos that offer their services to US players. The Department of Justice does not construe the Wire Act to mean US casino players should be prosecuted for placing bets online. Instead, if they consider that an online casino is breaking any rules with regard to gambling, only the casino owners will be prosecuted (Page 5 here).
Moreover, the law only places limitations on methods used to fund online casinos wagers and bets. As a U.S. resident, your should choose a casino based in a State where online gambling is legal, or those that obtained their licenses from jurisdictions outside of the United States like Curacao. Another option is to choose those accepting funding methods such as Bitcoin and eWallets.
We hope that you found this guide to informative, and you will enjoy your best online casino games.
Recommended Online Casinos for US Players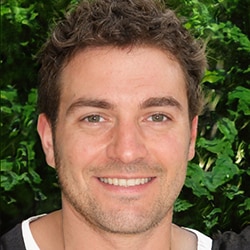 Dave is a gambling enthusiast who boasts of two decades of experience. His writings not only unravel the intricacies of online casino games but also explore the psychology behind betting. Dave's commitment to responsible gambling shines through, making every wager a mindful choice for players seeking a thrilling yet balanced gaming experience.