A complete guide to Giropay, and the best Giropay Casinos. An in depth review for players looking for the top Giropay online casinos.
Last Updated on February 16, 2023 by Dave Hall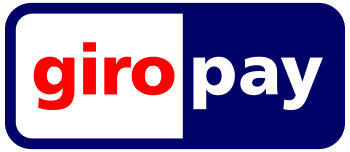 Giropay is a widely used online payment option for German and Austrian players and a reason why we created this guide focused on Giropay Casinos. It is an instant banking method that provides ease and security when depositing online.
If you are based in Germany or Austria, and are looking for a safe and convenient method to fund your casino account, Giropay could be your answer.
We will take a look at what Giropay is, who they are, how it works, the safety and security and the speed of transactions. And of course, we highlight the best Giropay online casinos.
Up to £100/$800 Match Bonus + 100 Free Spins
split over 4 deposits.
Up to £100/$800 Match Bonus + 100 Free Spins
split over 4 deposits.
100% up to $500 + 50 Free Spins
First Deposit Only. Max. Bonus C$500
Bank transfers are some of the safest methods of payment online. With the advent of the internet and financial technology, bank transfers have evolved to a point where they can be made directly.
In iGaming industries, bank transfers are a staple mode of payment for players around the world. It's a safe and proven way to get your money to where it needs to go, whether it be an online casino, an online merchant's account (in exchange for goods) and services.
In Germany, Giropay has established itself as a respectable banking platform. It boasts one of the fastest transaction speeds in the country and allows casino enthusiasts to get in on the action sooner compared to other payment methods. In fact, it's one of the primary methods of payment by Austrian and German casino players.
The payment platform is mostly responsible for 1 million payments made each month. Information about GiroPay Casinos using the payment method, as well as how and where it can be used will be outlined below.
What is GiroPay?
Giropay is a newcomer in the payment service industry, only having been operational since 2006. The company is described as a direct online banking system in Germany, owned by several entities – a couple of credit unions, savings banks and Postbank. It's seen as a primary way to offer online banking services to their respective clients.
In terms of funding online casino accounts, Giropay works the same way. Customers can make direct transfers via their own banks to the casino platform. The appeal of a quick and easy payment processing turned Giropay into a household name in Germany.
How Does Giropay Work?
There are no special steps or program you need to download. Players at Giropay Casinos can log in to their online casino account, choose Giropay as the mode of payment, log in at the portal and enter the necessary information, including how much money you wish to transfer.
Gesellschaft mit beschränkter Haftung (company with limited liability) supports the payment infrastructure. Furthermore, the system employs excellent security and safety measures in the form of TAN and PIN methods. With Giropay, you won't need to use your credit or debit card ever again.
The bank you connect with Giropay will display transaction data- once approved, you just need to enter the PIN code and account number to continue. After verification is complete, the bank will send you a TAN, or Transaction Authentication Number code that you will need to enter in the online casino website to confirm the payment process.
Once all of this is approved the bank will initiate the transfer (usually in real time) to the receiving party. At the same time, your bank funds will be deducted to reflect the transfer. A confirmation or receipt will also be sent to the receiving party so they can update the player's account.
You will need to confirm if the internet casino you want to play in supports Giropay. Also, you will need an account with participating banks to successfully process the money transfer.
Interested GiroPay Casino players can sign up for an account, then head to the Cashier section and select 'Giropay' within the drop-down menu. When you click on confirm you'll be taken to your bank's official website, where you'll need to log in.
Transactions completed using Giropay should show up on your transaction history. For current transfers you will need to manually approve the transaction. A bank associate or system will see the transaction and send the corresponding money to the merchant.
Countries that Can Use Giropay to Fund a Casino Account
Giropay is based in Germany, and as of the moment it only caters to Austrian and German casino customers. We can expect to see more countries added as the payment platform expands across Europe. In the time when online casinos are becoming as popular as their traditional counterparts, more should open up and offer more payment options to their customers.
Giropay is currently exclusive to Germany and Austria through public and coop banks. Though there a few private banks associated with the payment service, the reach is about 17 million customers.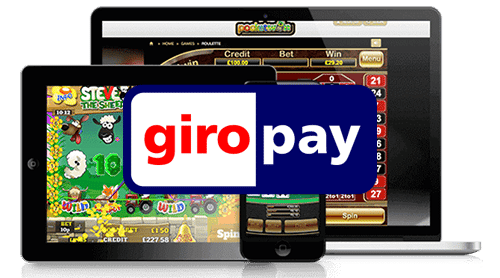 Benefits of Using Giropay for Online Casino Transactions
Real Time Payment
Payment processing speed is important, especially in the online casino industry as people will want their accounts funded so they can start playing. Thankfully, Giropay sports one of the fastest speeds in Germany so you can get gambling fast.
The time it takes to log in to your bank and authorize the transfer is longer than the time it takes for the money to appear in your casino account. This is a plus, and one of Giropay's biggest advantages for online casino players.
Convenient
Convenience is key when it comes to online casino banking options. Giropay has the same interface and layout at most online banking portals. You'll feel right at home and won't have to learn where to enter the fund amount and how to confirm the transaction, for example. The website is clean, intuitive and responsive and constantly updated with the latest web securities.
Safe and Secure
The nature of online bank transfers allows casino players to add funds with confidence knowing their data and personal details are kept safe from prying eyes. Giropay offers the same benefits and has a few added features that make it a favorite among German bettors.
Every transaction is monitored, and players will have to undergo several authentication steps for the transfer to go through. For incorrect PINs and tries the processing won't push through and your money will be safe in the bank.
No Additional Log In or Registration
Tedious registration processes are simplified when you choose Giropay as your method of transfer. Instead of logging in third party mediators you'll be redirected to your bank's log in page. All you need to do will be in the same site, from choosing the amount to authenticating the payment and confirming it.
Giropay gets extra points for being intuitive and having security features that make sensitive data hidden to prying eyes.
What are the Disadvantages of Using Giropay?
Giropay charges a small fee for every transaction their customers make. The amount will differ per bank and GiroPay Casinos, but it usually goes anywhere between .9% to 1.2% and € 0.08. To offset this, consider making larger and less frequent payments with the platform.
Also, Giropay options on online casinos are limited in scope compared to other methods, but it's a welcome bonus when you see it supported by your preferred internet casino.
These disadvantages are not deal-breakers, since you'll be getting real time processing and top-notch safety and security. Most casinos will absorb the costs in an effort to reel in new players. Also, the costs associated with the transfer isn't that high. Austrian and German casino enthusiasts should consider Giropay as their preferred method when it comes to online casinos.
Can You Deposit and Withdraw via Giropay?
Giropay is almost the perfect fit for online casinos since it boasts real time transactions and anonymity. To get started, the player must select Giropay in the Cashier section when making a deposit via bank transfers. Follow the steps to making a successful deposit and you can look forward to playing your favorite games as soon as possible.
Create an account at the online casino, then you'll be redirected to your bank's page. Fill out the online transaction form and double check the details before hitting the 'Submit' button. Wait for the TAN and then choose 'authorize' when prompted. The bank will do the rest. Afterwards, head to the online casino website and wait for the funds to be deposited to your account. It's usually instantaneous and won't take a minute or two.
Online casinos that support Giropay will have the deposit option via the service. But what about when you win big and wish to withdraw your prize to your bank account?
How Do I Withdraw Money via Giropay at an Online Casino?
The good thing about Giropay is that it can accept withdrawals from online casinos as well. The company works with the bank and allows incoming money from online merchants, including ones in the iGaming industry. That said, you won't need to look for another mediator when you want to cash out your winnings.
The process is about the same as with depositing money into your online casino account. Log in, then head towards the 'Cashier' section and choose 'Withdraw'. Keep in mind that you'll need to meet the minimum withdrawal amount as per the casino rules to be successful. Also, the turnaround time for withdrawals can vary from one casino platform to another, but they shouldn't take more than 72 hours at most.
Giropay is a stable payment platform for both deposit and withdrawal actions. The costs associated per transaction should serve you well as you'll be using Giropay's banking experience and security features.
Are There Any Fees Using Giropay?
You will need to check and see if an online casino supports Giropay. If they do, you'll have to check the fees associated with payment transfers. Giropay has an internal cost per transaction, which isn't expensive and allows casino players to get to the action in real time.
Typically, online casino operators won't be charging you on withdrawals but Giropay will charge you a certain percentage of the full amount you'll be cashing out.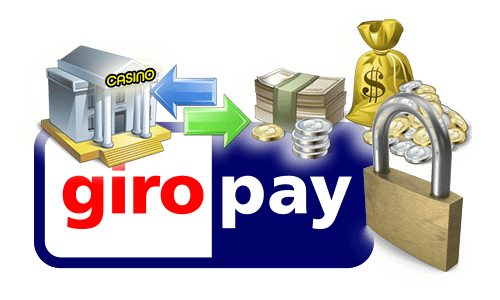 Is Giropay Safe, Secure?
Bank transfers have become a staple option in online casinos as they work both ways. Casinos get to enjoy their customers' business without worrying about getting scammed, while customers can benefit from the real time transaction speed and inherent security features an online bank transfer has.
Those who play at Giropay Casinos will no longer need to put their bank account number as it will be verified with TAN and PIN codes. The authentication process will keep your bank details safe from prying eyes, and the casino will get the funds directly from the customer's bank. What's more, you will be getting a statement showing the transaction and the casino gets something similar as well.
Giropay keeps their customers safe as using it allows them to remain anonymous in terms of personal and financial data. It's worthy to note that payments up to €5,000 are guaranteed; however, deposits made via the platform may not be canceled once it pushes through.
Your bank statement will not show 'charges' from an online casino. All data transmitted during the transaction event remain encrypted and safe.
Conclusion – Giropay Casinos
Giropay customers can enjoy a lot of advantages when they use it to fund their online casino accounts. Currently, the service is only available to Austrian and German players, but its growth can make it available to more countries. Also, there's a fee per transaction depending on the amount you deposit.
German casino enthusiasts should definitely consider Giropay Casinos, since the mode of payment is in real time and allows them to get into the online action right away.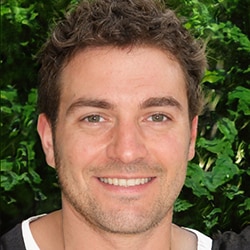 Dave is a gambling enthusiast who boasts of two decades of experience. His writings not only unravel the intricacies of online casino games but also explore the psychology behind betting. Dave's commitment to responsible gambling shines through, making every wager a mindful choice for players seeking a thrilling yet balanced gaming experience.