Welcome to our informative guide for all online players looking to fund their casino accounts by the convenient pay by mobile banking methods. There are a few ways to pay via phone bill with casinos online, and we will discuss them here. We recommend what we feel are the best Pay By Mobile Casino Sites today.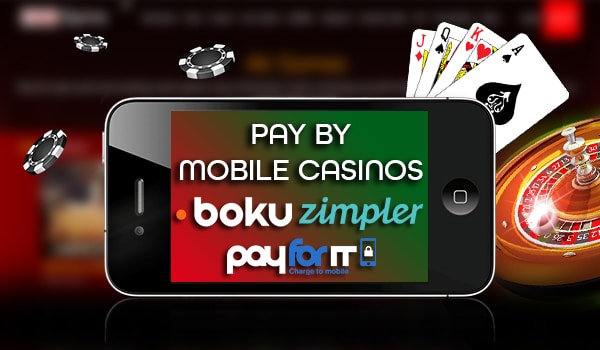 *Please note that pay by mobile phone deposits are only available to the UK, Germany, Sweden and Finland. This is because of availability of mobile phone providers offering the option, contrary to what other review sites may want you to believe. This is at the time of writing, and we will update accordingly if other countries mobile networks can participate.
All of these casinos offer Pay By Mobile casino deposits via Boku for UK players, and via Zimpler for Germany, Sweden and Finland players.
Looking for the Best Pay By Mobile Casino Sites
Online Casino Sites that accept deposits via mobile phone bill are becoming increasingly popular, and rightly so. They are very convenient to players and provide instant and secure transactions. All of the casinos we feature here accept pay by mobile phone deposits. Funding your account via mobile phone bill is a way to deposit quickly and securely without having to reveal any banking information or personal details at all.
Moreover, a phone bill deposit is a form of play now, pay later casino deposit. Therefore, players can begin playing instantly and have their deposit amount added to their cell phone bill.
How does Pay By Mobile in the Casino work Exactly?
When you access one of the mobile phone casino sites and wish to deposit this way, the first thing you do is visit the cashier. Depending of the pay by mobile methods that the chosen casino offers, you will select your choice from the options. There are a few methods that offer payments via phone bill and we will discuss them shortly. The most common and popular tend to be Boku, Zimpler and PayForIt.
After selecting your choice of deposit method, you will be asked to enter the amount that you wish to deposit. From here you will be taken to a secure page where you will enter your mobile phone number. Upon entering your mobile number, you will be sent a unique code via an SMS message. You simply then confirm this code and done, the funds are ready to play with at the casino and the amount will be added to your monthly phone bill.
Benefits of Using Pay By Mobile Casino Deposits
Deposits are instant so that you can play right away
It is a form of buy now, pay later casino banking method
A convenient way to deposit without the need to open other accounts
It is safe and secure, no personal details are needed
The phone bill payment option is processed effortlessly
You can easily stay in control of your gambling limits
Disadvantages of Pay By Mobile Casino Sites Deposits
It is deposit only. You cannot withdraw with this method
Not all mobile phone carriers support these options
Your mobile phone carrier may charge a fee
There is a lower transaction limit compared to other banking methods
Another disadvantage could be that the pay by mobile phone bill option is only available to limited countries. Namely the UK, Germany, Sweden and Finland. So, it certainly suits players from the United Kingdom when looking to play at the best casino sites for UK gamblers. And of course certain European countries.
However, this review is more focused on the pros and cons of the payment option itself. Therefore, this restriction is not really a disadvantage of the payment option. Moreover, we hope that this will change in time and that other countries can participate in offering gamblers the option to fund their casino accounts via their cell phone bill.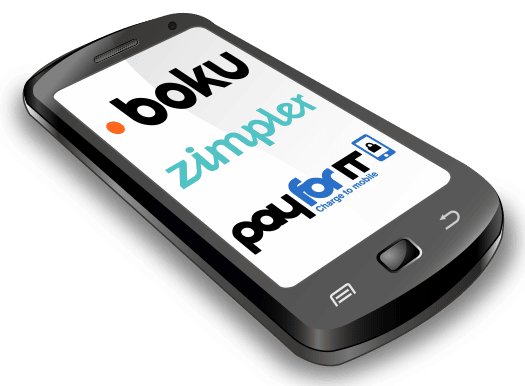 Providers Offering Mobile Deposit Casino Options
Boku
Boku is an online mobile payment operator that is available exclusively to the UK when it comes to online casino transactions. Even though they are operational around the world in over 50 countries and across 160 mobile networks, Boku casino sites are only available to the UK players wishing to deposit this way. It comes down to the mobile networks themselves not allowing gambling transactions through their networks via Boku. We have a full review of Boku and the best Casinos accepting Boku deposits, so you can read in further detail about this method there.
PayForIt
In many ways, PayForIt operates the as Boku, in that you simply choose this pay by mobile casino method option among the cashier options, enter your phone number, and confirm via the unique code sent to your mobile device. PayForIt is available for mobile payments in many countries, but again, when it comes to online gambling transactions, only the United Kingdom can benefit from using PayForIt.
These restrictions come about from the mobile network carriers not allowing pay by phone bill transactions for gambling. Of course, online gambling transactions can be restricted by many payment methods, not just for pay by mobile casinos transactions. For instance, PayPal, the ever popular e-wallet option, have their headquarters in the USA. However, only the UK can use PayPal for online gaming transactions.
Zimpler
Zimpler is an online mobile phone payment processor that works a little differently to Boku and PayForIt. When you first initiate a Zimpler deposit in your chosen casino, you will be prompted to enter your mobile phone number. You will then receive an SMS message to follow instructions and confirm your new Zimpler account.
Once you have confirmed this new account, you will enter your credit card details to enable payments to be made. After this is complete, you will then be able to make deposits via your mobile phone without ever needing to enter this information again. It is basically a simplified way of paying via credit card, but using your mobile phone for the payment.
We have reviewed many top Zimpler casinos. However, Zimpler is only available to residents of Germany, Sweden and Finland for pay by mobile casino deposits. Other jurisdictions will not have this method available to them.
UK Mobile Carriers that Allow Phone Bill Casino Deposits
In the UK, many of the major mobile networks support Boku and PayForIt. This will allow most UK players to fund their online accounts at their favourite pay by mobile casino sites. This includes EE, Vodafone, Three Mobile (3) and O2. Over time, perhaps all UK networks will come on board. This will be seen in due course.
Fortunately though, for UK players anyway, is that these are some of the biggest mobile networks available. Therefore, online casino deposits with phone bill are made even easier for players with mobile phone contracts and who wish to deposit real money this way. They allow a type of pay using phone credit application for their online gaming deposits.
Do Mobiles Support Online Casino Games?
If you would like to deposit on a pay by mobile casino, then chances are you would also like to play games on your mobile. This is natural and most common these days. Mobile casino games are more common than ever. Moreover, playing on on your mobile phone tends to be the chosen way of gaming as the online casino continues to evolve.
The short answer is yes absolutely, mobiles will support online casino games. In fact, all of the casinos that we list here on Top Dog Casinos do support a mobile option for slots, table games and more. Sometimes there will be fewer games available compared to the desktop version. But this is often due to the game provider / software operators that do not offer a mobile version of the game, and not the casino themselves. With that being said, there are still plenty of mobile casino games you can pay by phone bill and enjoy, including slots and live dealer casino games.
Overall, a mobile billing casino will suit a great deal of online gamblers due to the ease and speed of deposits, along with a variety of games to play. Using your phone online is the done thing these days, and the same applies to mobile phone casinos.
Are Pay By Phone Deposits Eligible for Bonuses?
In general yes, most casinos will allow the player to accept the bonus on offer. But this will of course depend on the casino in question. Many casinos tend to restrict their bonuses from certain banking methods. However, we tend to find this not to be the case with phone bill options. Upon viewing the bonus terms and conditions, we do not find that the bonuses are not available to the mobile methods.
However, it must be remembered that when it comes to pay by mobile phone bill casinos, the deposit amount is usually limited. Especially when compared to other options like e-wallets and mobile banking.
For example, depositing via Boku may come with a maximum deposit of £30. This means that, as an example, if you wish to accept a first deposit match bonus of say "100% up to £200 match", you can only receive up to £30 in bonus match money because this is the maximum you can deposit.
Conclusion – Pay By Mobile Casino Sites
To many players, the online casino pay by phone bill method is a favourite choice when it comes to deposits. However, you are often limited to the amount you can deposit by phone credit, compared to other banking options, like e-wallets for example.
It really comes down to personal preference of what suits the individual when making deposits. A play now, pay later casino is great for some, but to other it may slip their mind that they deposited this way until they get their phone bill.
Overall, to us it is a very convenient way to fund an online casino account. And you get to play instantly without delay. Online casinos are evolving every day with the growing trends of today's users. This is why there a pay by mobile casinos sites. Because people today like to do everything with their handheld devices.
We hope you found this guide useful when looking to play online. Have fun and please play responsibly.
Share on Social Media:
Some popular articles: