Our Top 5 Online Casino Myths Exposed
Online casinos are so often compared to their land-based counterparts.  The online versions often come with many unfounded facts that are so not true.  It leaves many believing that online casinos have a bad reputation, and should be avoided, but it is simply not backed up or deserved.  Several fictional points have come up over the years.  And it is our mission in this article to debunk some common online casino misconceptions and uncover the truth.  Here are our top 5 Online Casino Myths.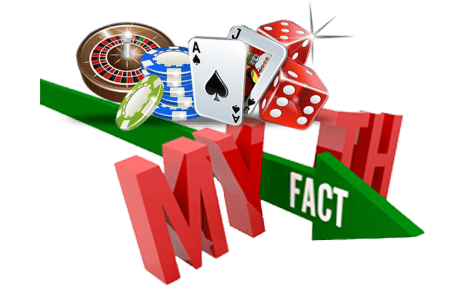 Myth #1 – Online Casinos are Rigged
This couldn't be further from the truth, well among reputable casinos anyway.  It may be an unfortunate truth that there are some rogue online casinos out there. Fly by night versions that are set up to simply take your money and run. Fortunately, these do not stick around for long, and if you do your due diligence, you will never come across one. Reputable casinos online must go through rigorous testing by the gambling commissions in their registered jurisdictions to be deemed fair and trustworthy.  Their games and software are scrutinized to meet the standards set before being awarded a license.  Read top casino reviews and make sure the one you are signing up for is trusted, fully licensed, uses reputable software, and most importantly pays out when they should.
Myth #2 – Online Casino bonuses are a scam
It is simply not true.  It can be a common thought because people tend to sign up, deposit money, get their bonus, play and play, then get nothing back because they lost.  Well, online casino bonuses are there to attract new customers.  And why not?  But they are not scams.  It is just that most of them come with wagering requirements that many folks don't understand.  Either that or they just don't read the requirements that accompany the bonus.  The casinos do not just give you free money.  Think about it, how is that good business?
A typical example is you may receive a 100% match of say $200.  Let's say you must wager this 20 times to be able to withdraw your winnings.  Now, 20 times this bonus is $4,000.  This is a lot of spins/bets before you are eligible to withdraw.  However, this can easily be achieved over a short period of time.  Faster thank you think in fact.  Bottom line is that they are not a scam.  If you do not want to go through these wagering requirements, just don't accept the bonus and play with your own money.
Myth #3 – You can count cards online
This thought has likely crossed many gamblers minds.  There is a known fact is that if you are capable, you can beat the house by counting cards at blackjack.  In land-based casinos this is very true, as you could be dealing with a well shuffled 5 deck shoe.  Anyone who can keep track of the first 3-4 decks or so that are dealt can have a significant advantage over the house.  An individual knowing how many hi/low cards are left in that shoe can then win big, as the odds can possibly be stacked in their favor.
Realistically though, this is extremely difficult unless you are Rain Man of course.  The thought could be that by playing online, you can easily keep track of cards dealt using computer software, a blackjack calculator, or simply pen and paper.  The truth is, playing online is either computer generated cards, or if playing with a live dealer, they tend to change to a new deck and reshuffle the shoe every few hands to eliminate this possibility.  Simply put, it is not possible to count cards online.  If you think you can, comments are welcome below!
Myth #4 – A big win and you're flagged
A common misconception when playing at an online casino is that if you have a big win, the casino operators will flag your account and you are done winning.  As if they will flick a switch and stop paying out on whatever game you are playing.  Well, this is complete BS!  We ourselves have experienced the so-called phenomenon.
A good example is when we were playing one of our favorite slot games, the Spin 2 Million slot.  One of our players hit $2540 in one spin, from a total $2.50 bet.  After this win came a period of nothing.  Even changing slots seemed a lost cause.  Nothing would pay out, not even table games.  It seemed like they knew our account had won something, and that was it for our winnings.
What needs to be remembered is that is part and parcel of gambling, and that is casino play.  The most regulated and reputable online casinos would not exist for long if they carried out practices like this.  Fairness is a fundamental obligation that these companies must abide by to keep a license.  It is taken very seriously by the gambling commissions and will always do so.  As long as you play at a well respected and fully licensed casino, you do not have to worry about this fiction.
Myth #5 – You will lose more in Online Casinos
Some people believe that if you play online, then you are more liable to lose more money as opposed to playing in a land casino.  Well, this is just nonsense.  It is not the fact that the casino is online that some lose more.  It is not the casinos fault that they are operating online.  This myth is more likely believed because these folks are depositing digitally from their bank accounts, or e-wallets like Paypal, and not cash from their pocket.
Psychologically, they are not seeing this money go anywhere, and in turn spend more.  So, initially it feels like they haven't spent anything ay all.  Until of course they realize that a chunk of money has gone from their account.  Discipline is the key, regardless of playing online or playing offline.  You need to set yourself a budget, just like you would if you were going to a land casino.
Conclusion
Playing in an Online Casino can and should be fun.  However, it needs to be understood that there are myths out there that are simply not true.  It is clear that online casino play is continuously growing at a rapid rate.  So, keep gambling to a manageable level, and a disciplined level.  Do your due diligence before depositing your money and playing.  Make sure your casino of choice is regulated, reputable, licensed, and has good reviews.  Most of all, keep it fun.  Follow this and you will never encounter these online casino myths.
You may also like:
No one wants to wait long for their winnings? Here we show you best instant withdrawal casinos and same day payout casinos. Learn all about it here
Online casino gambling can be fun and convenient. However, some players still choose to go and play at brick-and-mortar casinos. While not all of them did so with malicious intent,...
Top Dog Casinos looks at why many online casino stakeholders are asking if technology, AI to be specific, can cut down problem gambling.