Want to know how to win at Blackjack? Our helpful tips, advice and strategies will help you stop losing and start winning! Learn more!
Last Updated on September 14, 2023 by Dave Hall

Let's Learn How to Win at Blackjack
Blackjack is one of the most popular table games. Learning how to win at Blackjack can make a difference between losing on a regular basis and being able to play competitively. In this article, we are going to look at tips and strategies that you can use to increase your chances of winning a blackjack game, online and offline.
Blackjack is a game that requires you to possess some gaming skills and be able to incorporate them into your game-play. Furthermore, you need to realize that any blackjack strategy that works is based on math and logic.
That is why you need to start trusting the numbers more. You don't need to worry about "winning rituals," or "lucky numbers," and with that in mind, let's look at how to win at blackjack.
Step 1: Play at the Right Casino
It is the first step to win your game, and I cannot emphasize enough on this important first step of winning at blackjack. The good thing is that it's not hard to figure out which is the best online casino, simply pick out one that's among the most popular. Such a casino will have many blackjack games and offers huge bonuses that you can use to play in-house.
How does your choice of casino affect your chances of winning a blackjack game? Well, you may not know this; therefore, I am going to go ahead and say it. Not all online casinos are trustworthy and safe. Furthermore, you may win at some casinos, but they will fail to pay you your winnings.
On the other hand, choosing casinos that are licensed and regulated assures you of fair play. Most importantly, you get paid when you win and enjoy actual bonuses, not just mere trickery to get you to spend more money. Rest assured, Top Dog Casinos only recommends the most secure as this is where we play ourselves.
Step 2: The Blackjack Variants
The game variant is the second most important strategy you need to include in your blackjack game plan. In any game, the house edge is an important detail that determines how easily you can win a game, or lose it. The lower the house edge, the better it is for you.
Some of the most popular online casinos are those with a lower house edge or at least don't go above the industry average.
While most popular slot games will have a house edge of about 4% t0 6%, you shouldn't start to play in any casino before confirming this important detail. Unless you only want to have fun and winning isn't your goal.
Some blackjack games have a house edge of close to 1% while others have it at just over 2%. Those should be on your list of best blackjack casinos if you learn how to win at blackjack.
Step 3: You Should know Your Blackjack Game
Blackjack games aren't all similar, and as a matter of fact, it's hard to find two versions of blackjack games using identical rules. That's why applying the same strategy to different games doesn't work. Every little detail about the game matters because it directly affects that house edge. To learn more about the specific aspect of each game, you will first need to read the help section and make sure you understand everything.
Below are some of the questions you should use to identify the best strategy to use and learn how to win at Black Jack.
How many decks does the shoe have?
What's their maximum and minimum blackjack payout?
Do they have a 5-, 6-, or 7- card Charlie?
Are you allowed to hit split aces?
Do they restrict you to doubling only a specific total or just any two cards?
Is the dealer allowed to get a soft seventeen?
Do they allow players to surrender and when can you do it?
How many times can you split your hand and when can you do it.
Can you double after splitting your hand?
You should also watch out for online blackjack games that bear the same name but use different rules. Since the rules are different, the house edge will also be different. The difference comes in from the fact that different software developers program and supply the online games.
Furthermore, there isn't an industry, which is why Microgaming offers a classic blackjack with a house edge of 0.13% while NetEnt's Classic blackjack's house edge is just 0.35%, which makes a huge difference in your winnings. That's why rules are essential if you want to learn how to Win at Blackjack.
Step 4: Your Basic Blackjack Strategy
We hope that so far you have implemented the above strategies and you have chosen an excellent online casino. It should offer you better chances of winning, and an assured payout. Moreover, you should have familiarized yourself with its rules.
Next, we are going to find a blackjack card strategy that's specific to the game you have chosen. It should help you to make the right decision under any circumstance.
In the example we are going to use, the strategy will work with Playtech's Blackjack Pro. We have included an image showing you how to play according to the hand you are holding and against the dealer's upcard. The full strategy chart will have three parts; one for soft hands, another for hard hands, and the last one for pairs.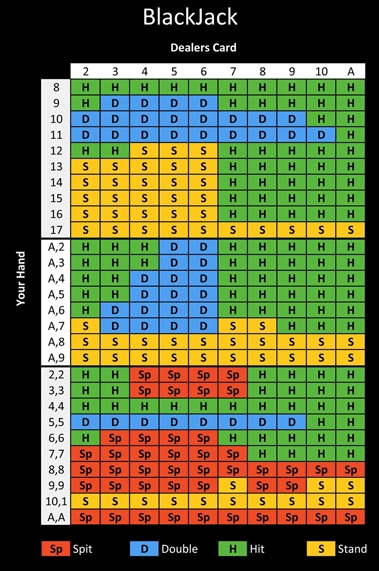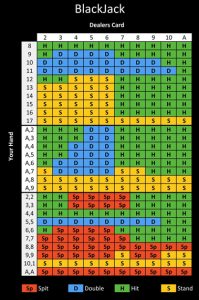 Basic Strategy for Playing Blackjack Pro
There are many basic but effective blackjack strategy charts, and you can easily make one yourself using any blackjack calculator. Most of those calculators are free and accessible online. The charts are easy to read even for beginners, and they are based on mathematical calculations.
However, these charts will not tell you when you need to count your cards. They will also not tell you how much you should bet, or even what you should do with the side bets. In the next sections, we look at those topics in detail as we explain further how to win at blackjack.
What You should do with Side Bets
The strategy charts may help you quickly understand basic strategies of playing blackjack. However, they don't give you any hints on what to do with side bets. Therefore, they aren't the perfect strategy because they skip other vital aspects of the game.
When dealing with side bets, you need to remember casinos are in business to make money. Furthermore, casino games have a low house edge, meaning the casino business needs to find more ways to boost their profits.
In that regard, casinos came up with side decks, which they added to the different blackjack variations. Cumulatively, that helps to raise the house edge and increases chances of the house winning.
It's therefore easy to see that before you have mastered your blackjack strategies, you have to avoid the side bets. It's your best strategy with side bets until you learn all the advanced tactics.
Card Counting
Lets briefly talk about probably the most famous of all strategies of how to win at blackjack, Card Counting.
Most players associate "blackjack strategies" with card counting, and most apply it when trying side bets. However, this strategy is not feasible with online casinos as it is with brick and mortar casinos. Furthermore, it is usually against the house rules, and in other casinos, simply frowned upon by the house and fellow players.
Online, it isn't feasible because the software shuffles the deck after each hand, except when it's live dealer blackjack. That makes the live dealer blackjack the best option for "card counting". That being said, even live dealer blackjack tends to shuffle and change the shoe every 3-5 deals.
Therefore, this technique generally works best at land based casinos where they may have a 3-5 deck shoe. And they will exhaust the entire shoe before shuffling.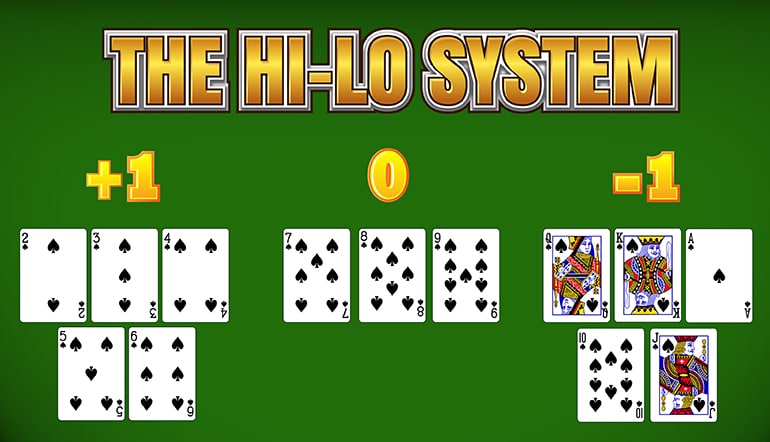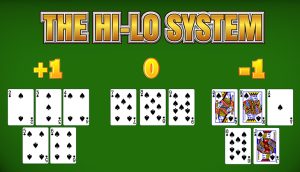 Card counting refers merely to the counting of high and low cards in the shoe. As the number of cards played gets low, it makes it easy to know which card is coming next. Therefore, it gives you some insight into the possible outcome of the game, and therefore, may tip the scale in your favor.
The easiest card counting strategy is Hi-Lo system shown above. In the Hi-Lo strategy, you add one point for every low card you see. The low cards are 2,3,4,5 and 6. The high cards are 10, J, Q, K and A; and for those, you deduct one. Nothing happens with cards 7,8 and 9.
When your count gets higher, you know you have a chance of getting 10-valued cards. Those cards are "good" for you as the player, and bad for the dealer.
Best Blackjack Betting System
While using a blackjack strategy card to help you learn how to win at Blackjack fast, it doesn't tell you how much to bet. There are of course many betting systems that claim to help you win with minimal loses. Most of them are progressive betting systems that work on the principle of many losses indicate a possible win shortly. Of course, that's a "gambler's fallacy," and it can easily claim you as its next victim.
However, the truth is that no single betting system can help you beat the house every time. However, the best blackjack strategies help you learn how to win at black Jack both big and small wins. Nevertheless, it's the little wins that add up over time and help you to offset losses, which makes gambling fun.
This basic strategy and card counting can be used to determine when to increase your bet amount when the count is high. At that point, the strategy cards are regarded as being "more correct". Still, you must keep in mind that card counting applies only to live dealer games because the cards aren't shuffled after each hand.
For the RNG games, your best betting strategy is to wager the same amount throughout, plus any convenient casino bonus you get. We will get more into that further down in this discussion.
Step 5: Try Your Strategies in Demo Mode
Once you have created the strategy charts and settled on which betting system to use, you need to do some tests. They will help you to make an informed guess on how effective your betting strategies are, and how much you are willing to lose as you enjoy the game. While at it, test several strategy cards, and note down the outcomes of each attempt. Use the tabulated results for your demo game to determine what to expect from the actual games. Furthermore, practice your card counting skills; they will come in handy when playing live dealer games.
Step 6: Combine your Blackjack Strategies and Your Bonus
Unlike brick and mortar casinos, online casinos offer generous and regular bonuses. You can take advantage of those gifts, and try your luck. It feels good to play with money that isn't yours, winning, and being able to withdraw or cash the winnings.
The ultimate strategy is to combine the low house edge of online casinos, a solid math-based strategy chart, and the right bonus to make a solid blackjack bet. That's how you know that you have learned how to win at blackjack and that you will be able to use the skills successfully.
Withdrawal Conditions
Online casinos will not let you withdraw the bonus amount unless you meet one or two conditions associated with using their bonus. In most online casinos, you are required to have played with amounts that add up to about 30 times the deposit and bonus amount. Therefore, focusing on low wager bonuses is generally the way to go.
Furthermore, you have to keep in mind that only about 10% of the betting amount is used for wagering. The low house edge give players greater winning odds, making it impossible for the house to wager 100% of the betting amount, and still stay profitable.
You should also keep an eye on the maximum withdraw period after which the house claims the winnings, and the minimum deposit required to claim winnings from the bonus.
Knowing if you can withdraw your winnings isn't part of learning how to win at blackjack. However, it determines whether you will get your winnings, and it's therefore important to know it before you start playing blackjack.
Conclusion
Overall, the best blackjack strategy that you choose should match the game variation you choose to play. Furthermore, your strategy should conform to that particular online casino's rules and regulations. When played sensibly, blackjack can be one of the best payout games at the casino.
When learning how to win at blackjack, it's important to know which casino you intend to play in. A slight variation in rules will render a strategy meant for a blackjack game in a different online casino irrelevant. Just remember, unlike brick and mortar casinos, dealers in online casinos can't see you.
That makes unsuspecting live online dealers at the tables one of the best if you have mastered the strategies. Similarly, if it's a bad casino that comes with bonuses that seem too good to be true, chances are you might be ripped off.
Our selected casinos take that skepticism out, and leave you with complete confidence.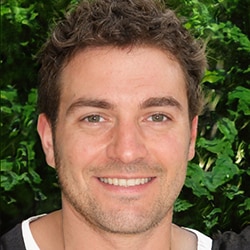 Dave is a gambling enthusiast who boasts of two decades of experience. His writings not only unravel the intricacies of online casino games but also explore the psychology behind betting. Dave's commitment to responsible gambling shines through, making every wager a mindful choice for players seeking a thrilling yet balanced gaming experience.