Caribbean Stud is a very popular form of Poker. This smart guide to Caribbean Stud Poker Strategies will help beginners learn the basics
Last Updated on August 5, 2023 by Dave Hall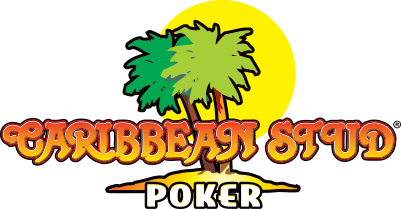 Caribbean Stud Poker is among the most popular live dealer games, and if you have never played it before, then you should. You can play either online, or at home on a semi-circular table. The land-based casino table can hold up to 7 players, while the online game holds one player only, unless you are playing with a live dealer.
And although this may sound like a complicated game, the Caribbean Stud Poker is very similar to the 5-Card Stud, apart from a few differences which we will look at next.
Recommended casinos with Caribbean Stud Poker
500% Low Wager Bonus + 500 Spins
Bonus percentage 250% (+250% on Crypto).

Differences between Caribbean Stud Poker and 5-Card Stud Poker
Players play against a casino dealer (the house), instead of other players

All your five cards are dealt face-up

Bluffing is not allowed

There are no draws made
How to Play the Caribbean Stud Poker
In summary, Caribbean Stud has simple rules, fair odds, and its payout is quite generous. Here is an easy step-to-step guide on how to play the Caribbean Stud Poker.
Place an Initial Bet (an Ante)
Each player starts by placing their initial bet on a designated "ante" spot on the casino-playing table. However, the dealer states the minimum and maximum bet value before the game starts. This amount may vary depending on the casino you choose. Moreover, each player can only play a single hand in each round.
Participate in Optional Jackpot Feature
Next, the players take part in an optional progressive (or continuing) jackpot side wager. The dealer also specifies the side-bet amount before players can place their bets. Players place both the initial bet, and the side bet before the action starts.
Players can choose to skip playing the Caribbean Stud jackpot because it is optional. The dealer then signals the end of placing initial bets by calling out "no more bets".
The First Round
Next, the live dealer issues five playing cards with their faces down to each player. They also deal five cards to themselves face-down, except for one that they deal face-up. Once all players have received their cards, each player is free to examine their cards.
However, players must not disclose their cards or to hold any "poker table talks" within a game session. In addition, every player must ensure that the dealer can see all his/her cards at all times, without obstruction.
RAISE or FOLD
After examining his cards and the face-up card of the dealer, a player decides to either RAISE or FOLD. The dealer gives a signal to each player to take their turn. If a player folds, he loses his ante wager plus any progressive bet to the casino dealer (the house) instantly.
However, if a player opts to RAISE, then they must place a second bet that is double their initial bet. For instance, if the ANTE bet is $10, their RAISE will be $20, bringing their total bet to $30.
How to Win at Caribbean Stud Poker
The dealer then reveals all the other four cards after every player has taken their turn in the game. It's now time to know whether you lost or won. To win, a player must beat the dealer and adhere to all the rules of the game. Moreover, the dealer must have a qualifying hand.
The hand rankings of the Caribbean Stud Poker are the same as those of the 5-card Stud. Moreover, if a dealer's hand is said to have qualified if it has a king and an ace, a pair, or higher. If the dealer's hand qualifies, the players compare their hand to that of their dealer.
If a player's hand ranks higher than the dealer's hand, that player gets to win their initial bet, and the CALL bet. However, if the dealer's hand ranks higher, the player loses both their ante and CALL.
On the other side, if the dealer gets a non-qualifying hand (lacks a king-ace or a higher card), the players are paid their ante wagers and all their RAISE push. 'Push' means that players get back their progressive bets, and no extra money is won.
Check the table below for a summary of Caribbean Stud Poker handouts.
Caribbean Stud Poker Hand Payouts
| | |
| --- | --- |
| Hand ranking | Payout |
| A high card or a pair | Even money |
| Two pairs | 2 – 1 |
| Three of a kind | 3 – 1 |
| A straight | 4 – 1 |
| A flush | 5 – 1 |
| A full house | 7 – 1 |
| A four of a kind | 20 – 1 |
| A straight flush | 50 – 1 |
| A royal flush | 100 – 1 (maximum payout) |
Caribbean Poker Hand Rankings
Straight Flush – consists of five cards of identical suits that follow a continuous sequence such as 4 ♥ 5 ♥ 6 ♥ 7 ♥ 8♥.
Royal Flush – This is an unbeatable straight flush. It consists of the ace, king, queen, jack, and ten of a suit.
Four of a Kind (or quad) – consists of four cards of the same rank and a fifth card of another rank. For instance, 8♥ 8♥ 8♥ 8♥ J♥
In case of a tie, the hand with the highest-ranking four of a kind wins. Moreover, if two players have the same four of a kind, the one with the higher fifth card takes the win.
Full House or a full boat – It consists of three cards of one suit and two cards of another suit, such as 4♣ 4♥ 4♠ 7♥ 7♦. In case of a tie, the player with the highest-ranking three matching cards wins the game.
A flush – has five cards of a similar suit, such as 3 ♦ 4♦ 8♦ 6♦ Q♦. In case of a tie, the player with the higher-ranking card is the winner.
A Straight – has five cards in a continuous sequence, regardless of their suit, such as 3♣ 4♥ 5♠ 6♥ 7♦.In case of a tie, the card that ranks highest in the sequence wins.
Three of a Kind – has three cards of similar rank and two side cards of different ranks, such as 9♣ 9♥ 9♠ 6♥ 4♦. In case of a tie, the player with the highest-ranking three cards of a similar rank wins.
Two Pair – has two cards of similar rank and another pair of different equivalent rank and a side card, such as 4♣ 4♥ 7♠ 7♥ 10♦. In case of a tie, the higher-ranking pair wins the pot.
One Pair – includes two cards of similar rank, and three others of different ranks, such as 10♣ 10♥ 4♠ 6♥ 7♦. In case of a tie, the higher-ranking pair wins.
High card – refers to any other hand that is not included in the ranks discussed above, such as K♣ J♥ 10♠ 6♥ 3♦.
In case of a tie, the highest-ranking card wins.
Progressive Side Bet
The Caribbean Stud Poker jackpot amounts are often very seductive. However, you must be extra careful when placing your progressive side bet since the dealer has a 26.46% house edge. That is why you should only place progressive bets occasionally.
These standard jackpot payout rates may vary from one online casino to another, but you can use the table below as a general guide.
| | |
| --- | --- |
| Hand Ranking | Payout |
| Straight Flush | 10% of the jackpot |
| Flush | 50 – 1 |
| Full House | 100 – 1 |
| Four of a Kind | 500 – 1 |
| Royal Flush | 100% of the jackpot |
Caribbean Stud Poker Strategy – Basic Strategy
You can follow the Caribbean Stud Poker Strategy to avoid losing often, and to spot easy wins. The strategy involves just two steps, as outlined below:
Do Not FOLD Small Pairs
Having pairs of low denominations is not a bad thing, and you will notice that it happens quite often. In fact, they can help you to win against the dealer quite often, and win whatever was in the pot.
Do not Play Weak Hands
Any time that you have a weak hand, you should FOLD, no matter how lucky you feel. Even when the exposed dealer's card is a low one, chances are you will lose once they show their rest of the cards.
A weak hand is one that does not have an Ace or a King, and is not the following: a High Card or Pair, Two Pairs, three of a Kind, Flush, Straight, Full House, Four-of-a-Kind, Straight Flush, or a Royal Flush.
Caribbean Stud Poker – Advanced Strategy
You can play Caribbean Stud Poker using the advanced Strategy, instead of the basic strategy. While it is more complex than the basic strategy, if you are already using the basic strategy, then you can build on it, and win more.
CALL When You Have Pairs of Better
You should always CALL if your hand has a pair or better. Furthermore, you can choose to CALL when faced with the following options:
The dealer's hole card matches yours, and is a 2, 3, 4, 5, 6, 7, 8, 9, 10, J, Q, or K.

The dealer's hole card does not match what you have, but your hand has a queen, and the dealer's hole card is less than your fourth highest card.
Caribbean Stud Advanced Strategy – When to FOLD
If the dealer's hole card is an ace or King, and you have a jack or queen in your hand, then it is best that you FOLD.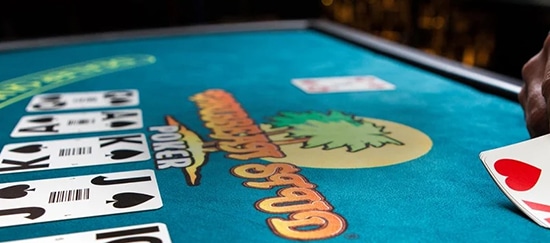 Conclusion – How to Play Caribbean Stud Poker
The Caribbean Stud Poker is a thrilling online (or on-land) card game. It is easy to learn, and its payout, including the jackpot, can be quite enticing. By implementing the simple winning strategies we have outlined above, you will increase your chances of winning significant returns.
We hope that you found this guide on how to play Caribbean Stud Poker with the basic strategy as well as the advanced strategy to be informative, and you will have fun playing on online casinos.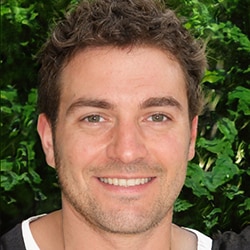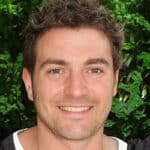 Dave is a gambling enthusiast who boasts of two decades of experience. His writings not only unravel the intricacies of online casino games but also explore the psychology behind betting. Dave's commitment to responsible gambling shines through, making every wager a mindful choice for players seeking a thrilling yet balanced gaming experience.