Pros
Re-Spin Feature
Free Spins Feature
Frequent Big Wins
Cons
No Progressive Jackpot
Low Maximum Bet
Play Book of Oz Slot for Real Money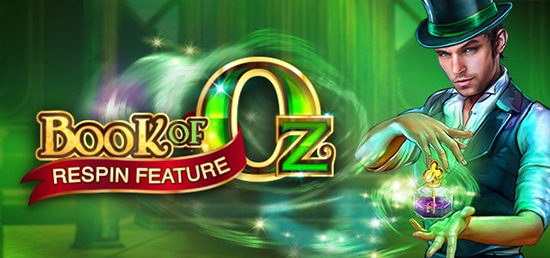 Those looking for an enchanting adaptation of L. Frank Baum's Wizard of Oz may have found it in the five-reel, ten-payline Book of Oz slot game. The main attraction to compel you down the yellow brick road is the respin feature, but there is plenty else to enjoy about this game.
The software provider Microgaming is responsible for releasing Book of Oz. They developed this slot with the independent company Triple Edge Studios. This is not the first time these two have teamed up to bring something new to the table for gamers.
The Book of Oz's Theme
Those familiar with the 1939 Wizard of Oz movie may be slightly put off by the theme at first. While you may recognize some of the classic imagery from the films, the theme for this slot game is actually based directly on the books the film was based on.
L. Frank Baum wrote 14 books in the land of Oz. These books were illustrated and while some followed Dorothy and the characters from the famous movie, there was a lot more going on in the course of the 14 novels Book of Oz has based their theme around.
You can expect to see the cowardly lion and other familiar figures and symbols from the Wizard of Oz movie. You can also expect to see the A, K, Q, J, and 10 card suit symbols you may expect from a slot game like this. The wizard is the big symbol in this game.
You'll notice him represented with a top hat, vest, and a flourish of emerald magic surrounding him. He is the all-powerful player in the land of Oz and he is your biggest real cash symbol. If you land a five of a kind with the wizard he will pay out 5,000x your line bet.
The graphics in this game are well done. You'll see black and emerald green lights creating a magical and dark feeling that embraces the fantasy theme to the game. There is a soundtrack in the background of the game that complements this fantastical tone, but again, don't expect it to match with the film.
You won't be hearing "Somewhere Over the Rainbow" playing in this game. There is a more modern, fantasy, and almost eerie quality to the music you'll hear played in the background to set the tone for Book of Oz.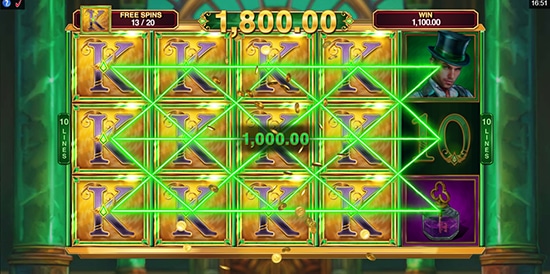 Playing the Book of Oz Slot Game
Book of Oz is a straightforward slot game in many ways, but has added in additional flourishes to keep things new and exciting, like the respin feature.
After completing any regular spin in the game, you can respin an individual reel. You can do this as many times as you like to attempt to gain a winning combination. If you're one symbol away from a five of a kind, this can be an exciting feature.
How much do the respins cost? It depends on the individual respin, so you'll want to watch this. The price is based on the spin potential. Make sure to not be too click happy here, you'll want to watch for what the price is and respin mindfully.
This feature makes the game a lot more strategic and exciting as far as slot games go and can be a real draw to this game for many players.
But at its core, the Book of Oz slot game is something frequent gamers are familiar with. This game is across five reels and ten paylines, all of them fixed.
The A, K, Q, J, and 10 card suit symbols are your base and the premiums are the hearts, books, keys, and wizard symbols.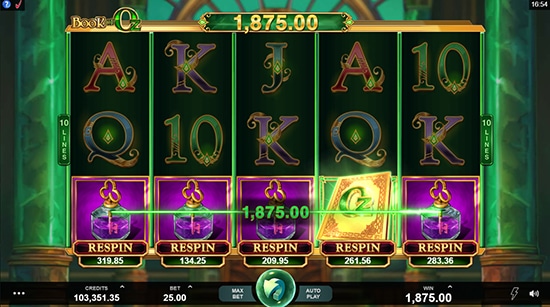 Book Symbols
The book symbols are a combined scatter and wild. These Book of Oz symbols are your special bonus icons to watch for. If you happen across three, four, or five Book of Oz symbols on the reels, in any position, they will pay out 2x to 200x your stake. These three, four, and five book symbol combos will also activate your free spins.
To get ten free spins you'll need three scatters. Twelve free spins will require four scatters. And twenty-five free spins come with five scatters.
At the start of this feature a random symbol will be chosen as your special symbol. When it shows up, this symbol will expand and fill all the reel spots. This is a fun and exciting touch, but it's worth noting that while it can be lucrative, you're most commonly going to have your special symbol appear as a lower paying symbol, like a J or a ten card. You can retrigger the free spins and see if that improves your payout chances.
Again, in your base game, one of your biggest ways to win is to land five of a kind with the all-powerful Wizard symbol, where you could payout 5,000 times your stake.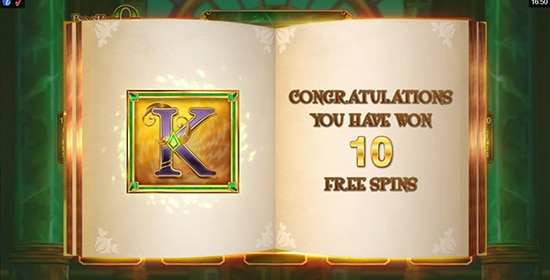 To recap the gameplay for Book of Oz:
What is on the reels?
A, K, Q, J, and 10 card suit symbols as well as hearts, books, keys, and wizard symbols.
What triggers the bonus games?
Land three, four, or five book symbols to trigger free spins.
Can I play on my computer? Or my phone?
Book of Oz slot game is available on both desktop and mobile platforms.
How many reels are there?
There are five reels across ten paylines.
How much do the respins cost?
It depends on the potential of the spin. You'll want to watch this carefully.
What's the biggest potential payout?
Score a five of a kind with the wizard symbol for your biggest potential payout. You'll earn 5,000x your stake with this win.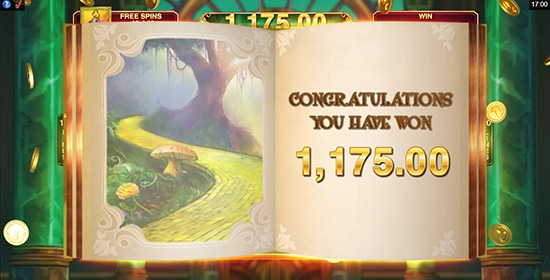 Conclusion – Book of Oz Slot Review
In the end, the partnership between Microgaming and Triple Edge Studios developed something fun and interesting with Book of Oz. This slot game has a familiar core base that players looking for something familiar will enjoy.
At the same time, the added extra touches, like the individual reel respin feature, make this a strategic and thoughtful slot if you want to play something with a different edge. The fantasy graphics are familiar, yet, pretty, and the music combination sets a good tone.
This slot game is a strong choice for many players who want a familiar game that goes the extra mile to offer something special.