Pros
Money Wheel Progressive Jackpot
Free Spins Bonus Feature
Cons
No Wilds or Multiplier Features
The Mr. Vegas slot is still a popular video slots game even though it was launched years ago. If you want to get away from the normalcy of life, this might be the game for you. It has a cartoon-like feeling that many players find appealing. This game makes players feel like they're playing in a real physical casino in Vegas.
Apart from the attractive theme, players are also offered bonuses and other impressive features in this slot. But is it the right game for you? Continue reading this guide to answer that.
Play Mr. Vegas Slot for Real Money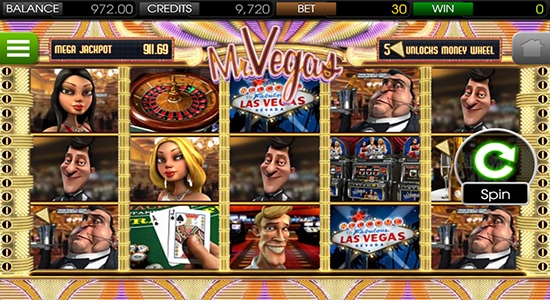 Software Provider, Theme, and Percentage Payout
Mr. Vegas slot runs on the Betsoft platform. While it is not the only game from this developer, it is among the most popular ones. Other Betsoft Gaming slots include Reels of Wealth, Three Wishes, and House of Fun among others. Mr. Vegas is a 3D slot game presenting real images of Vegas casino. This, therefore, makes it more interesting. It is simply a story of Mr. Vegas who wins in Las Vegas strips. Characters include a waiter, dancing girls, champagne, blackjack, etc. The more you spin, the more you learn about the secret behind Mr. Vegas's winnings.
BetSoft offers this game with an attractive theme. It is designed to capture the life of casinos in Las Vegas. It'll get you out of your normal life and take you to an amazing one where you'll need to spin to maintain that lifestyle. Sounds unrealistic, but it's true. It features impressive graphics that will make a player believe that they are playing in a real brick-and-mortar casino.
Mr. Vegas Soundtrack Theme
Many also love the ecstatic feeling of this game's soundtrack. Whenever a person lands a winning combination, the sound tempo will change in various ways. For instance, there can be champagne glasses filling up and clicking sounds in the background to celebrate your win. Mr. Vegas basically showcases the amazing life of high rollers.
He is an extravagant man who wins by taking on Las Vegas strips. There are beautiful girls in this game to motivate players as they match symbols. This slot offers 30 pay lines hence allowing individuals to maximize their winning chances. Players must match at least 2 icons before they win.
Landing on a maximum payout gives you a chance of winning $150 with $0.20 and $1 being the lowest and highest minimum wagers, respectively. The payout is about 96%. Therefore, you stand a better chance of winning compared to other lowly rated slot games.
Mr. Vegas Features
Features include free spins, excellent graphics, and sounds that will deeply immerse you into the game. However, we should talk about Mr. Vegas's rules. You're only paid one winning combination for every spin, even if you create more. And, only your highest winning combination will give you a payout. Players play this game on 30 pay lines and 5 reels. If the game has a malfunction, you don't get any payout.
Also, combinations must begin on the left reel, and symbols on a pay line must be on consecutive reels. Your total bet affects your overall payout. You can bet with any amount between $0.30- $150 per spin. These varying amounts give players the freedom to bet with an amount that suits their current budget.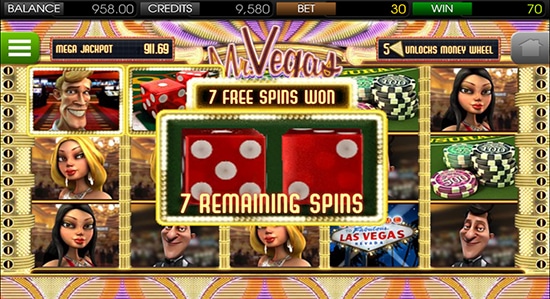 Symbols on the Reel
There aren't scatters, multipliers, or wilds in this game. However, characters here symbolize different things and are enough to give one an incredible experience. These include Mr. Vegas who appears in the introductory video along with 2 ladies. He also appears in the roulette bonus. He is the key to accessing free spin offers.
There are also three ladies, two of them who associate closely with Mr. Vegas. These symbols give great rewards of 2500 coins and 1500 coins for the hostess and other girls, respectively. Also, note that rewards and payouts given depend on the paytable provided. Here are some paytables on this slot;
Poker Chips – they're not so much rewarding during the game. However, they can give you better payouts on the table with 75 to 1 for five symbols. This amount decreases if they appear few of them.
Champagne Bottle – it is a lower-paying symbol offering 20:1 for three and 100:1 for five.
Dealer/Croupier – when five of this guy appears on the pay line, you'll get 200:1. However, if it appears four or three, you get lower offerings.
Blackjack – in a real casino, this hand carries high payouts. However, in Mr. Vegas slot, it only pays 50 to 1 for five, and that is the highest.
Casino Boss – this figure only pays 50 to 1 when they are three or more on a payline. If there are four or five symbols, the payout will be 150 to 1 and 250 to 1, respectively.
Blonde and Brunette showgirls – when two or more of these symbols appear on a pay line, you're offered a similar payout. 2 symbols pay 5 to 1, three pay 60 to 1, four and five will pay 180 to 1, and 300 to 1, respectively.
Showgirl with red – players are offered payout for 2 icons that match with two of these; the 10 to 1 reward is increased to 100 to 1, 300 to 1, 500 to 1 for three, four, and five symbols, respectively.
What Are the Bonus Games and Rounds?
The bonus rounds are an impressive area of this slot. They present one with an opportunity to maximize their winnings. But, for you to play them and get free spins, you must follow Mr. Vegas into his escapades. Let's look at some of the bonus games and rounds.
Free Spins Round – it begins when a player gets a dice symbol either to the left or right of the Mr. Vegas icon on the first 3 pay lines. The amount of the dice roll determines how many free spins one will receive and the total payout. Free spins can be re-triggered and feature a 2x multiplier.
Mini Slots Free Spins – they are automatically unlocked when three or more slot game icons appear anywhere in the view.
Money Wheel Jackpot – apart from the payouts from the base game and free spins rewards, this slot also offers a huge progressive jackpot with this feature. You must, however, place a maximum bet with real money to win this jackpot.
Roulette Bonus – here gamblers play a standard roulette game and stand a chance of collecting big rewards.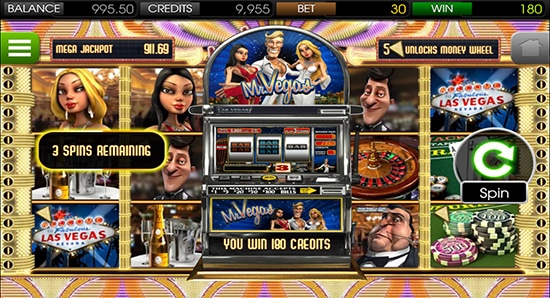 What Triggers Bonus Games?
Players can trigger these bonus games and rounds differently. For instance, the roulette bonus is triggered by Mr. Vegas himself when he appears on reels 1, 3, and 5 times. When three or more slot symbols appear on your screen, it triggers free spins on the mini-slot. This bonus round gives you several free spins in a different mini slot machine that is almost similar to the Reel King slot from Novomatic.
Also, after getting five money wheel pieces in the game you trigger this bonus. Spinning the money wheel gives you a chance to win great prizes like free credits, bonus rounds, free spins, and even a progressive jackpot. Lastly, you trigger free spins when you dice symbols that are next to Mr. Vegas on the left or right on the 1st, 2nd, or 3rd pay lines.
Players can play Mr. Vegas on any device they like, whether desktop or mobile. Both versions have similar high-quality graphics and interesting gameplay. The only difference will be your screen's size. If you can't access a computer, play this game on the go on your mobile device. It's compatible with both iOS and Android software. Also, if you're not a risk-taker, Mr. Vegas comes in a free demo that can help you see what the game offers without wagering anything. And whenever you are ready to claim wins, play for real money.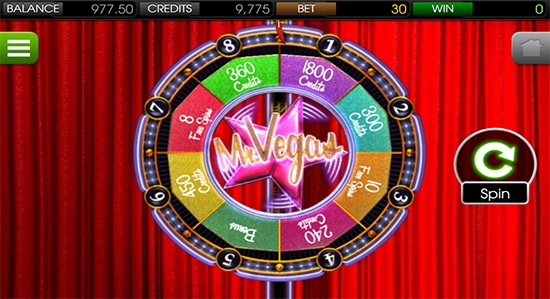 Conclusion – Mr. Vegas Slot Review
Mr. Vegas is a well-designed game offering a true Vegas feel. It represents some of the most popular slot games in Vegas and offers players a chance to have a similar experience like playing in a real casino. Its 3D graphics make it stand out from its competitors.
Plus, it offers various bonus rounds to increase a player's winnings. If you are not sure about it yet, you can try the demo version for free to get a feel of what this slot game is about, then decide whether it's worth your time and money.