Pros
Free Spins Feature
Falling & Sticky Wilds
Cons
No Progressive Jackpot
No Multiplier
Play Diamond Blitz for Real Money
Everyone loves slot games especially those that have classic features along with an intuitive system. The Diamond Blitz slot is a game that perfectly fits this description. Well, at first one might think that it's like any other slot game with 20 paylines and 5 reels.
However, once you start playing it you'll realize how much it has to offer. The Diamond Blitz slot machine features many original and incredible features.
Many classic slot games are often disappointing as they offer nothing new. However, with this slot from Red Tiger gaming, you'll enjoy great features involving wilds and players are offered progressive Jackpots. Keep reading our review to learn more about this game, its features, and everything else you need to know.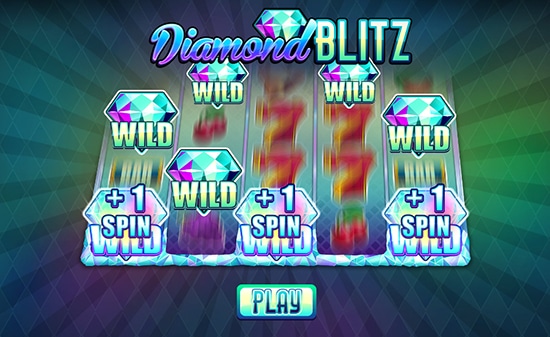 About Diamond Blitz
This is a retro release video slot game that's packed with moving wilds across its gaming grid. It offers many winning opportunities considering it's a fairly simple play. Spinning actions and winnings are as high 800 times a player's stake. Apart from moving wilds, called Falling Wilds, this game also features an exciting Blitz mode that's essential during gaming sessions.
Diamond Blitz was officially launched on April 9th, 2020. Red Tiger Gaming is the developer and software provider of this game. Well, this company is still a new software developer in the gaming market as it has only been around since 2014. However, we've seen more than seven new releases as the company expands its portfolio and presence.
Red Tiger, although they offer a few table games, their focus is mostly on slot games. To comply with the UK gaming legislation, this company does publish RTP for all their slot games within their pay tables. RTP for Blitz stands at 93.4% which is a bit dreadful since most slot games have their RTP at around 96%.
Well, players often won't enjoy playing slot games with RTP that is on the low range of average RTP. However, this is compensated by Diamond Blitz's medium volatility which encourages frequent wins.
Theme
The theme of this slot game has much to do with diamonds since these are the wild and important symbols in Diamond Blitz. Players get a fruit theme and other symbols specific to this genre. Users get to play with diamond wild, star bar logo, lucky 7s, cherries, and melons.
They often are stacked and cover full reels. Although its graphics are old school this game's bonus features are modern hence players can scoop generous riches.
The maximum payout is 560 times total bet. A player can win this payout only if they fill all reels with wild symbols. Note that the game screen has 20 rows which if all are filled with wild, one can win this high amount. Since the maximum bet amount is fifty coins when multiplied by 560, one can win 40000 coins.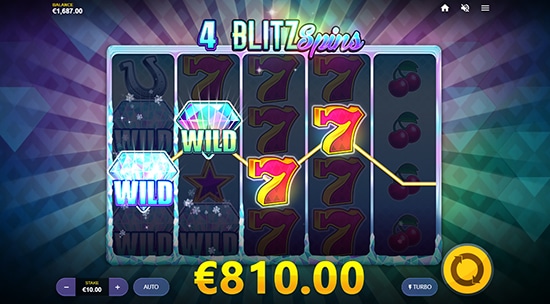 Features and Highlights
Features are one area that Red Tiger excelled when designing this slot game. Included features are simple thus can be understood easily. Shiny diamond wilds that turn into Falling Wilds once they land on a reel are this game's center of attraction. They move down by one row on the following spins until they drop off at the bottom row. But note that spins that have shifting wilds are paid for.
There's also the Blitz Mode announced by lightning strikes. It appears randomly after a heavy thunder strike pounds the screen. Then prompts the start of the Blitz round which triggers five free spins for players. All Wilds, if present will fall, and once they reach the lowest position on the reel, they lock instead of leaving the game area. Sticky wilds will be unlocked once this feature is over, shift again until they disappear.
There are also three progressive jackpots: daily drop which is limited to time and triggers guaranteed before a set time, hourly drop which is a ceiling jackpot that triggers guaranteed before the set threshold and the unlimited big drop that's unlimited and triggers anytime.
Additionally, there's a "gamble" feature that's only available in some paid version. A casino can activate or not this feature. Where this feature is active, players can gamble their winnings by playing a guessing game. If successful, you can increase your payout but if you're not, your winnings will be lost.
Your bet size influences your chances of winning a jackpot. To start a random jackpot, players will need to hit 3 jackpot symbols on the reels in a spin. This prompts the selector to jump between these jackpots and award that which remains highlighted at the end.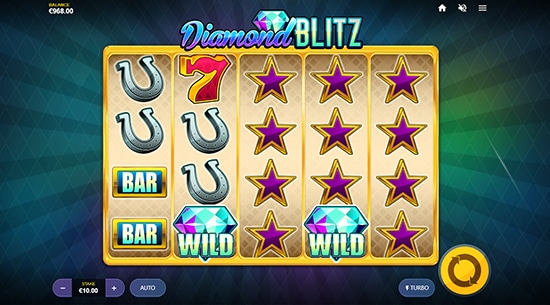 What is on the Reels?
This game is played on a 5X4 grid with each reel holding four symbols. Well, this is quite an unusual setup but it doesn't affect your odds so there's no need of using a different slot strategy. As we've earlier said, there are 5 reels and 20 paylines. This number is fixed and one can't change it. Although bonus features are 4, two of them may be unavailable depending on a casino and country.
Wild is the only special symbol shown by a photo of a diamond. Other symbols include Red 7, Grapes, Lemons, Watermelon, Horseshoe, and Cherry. Note that symbols consist of images of fruits and iconic signs like bell, star, and BAR. Players are offered ten symbols that have different payout values. Symbols often pay gamers between 6-800 coins. Wild can substitute other symbols plus during bonus rounds, it gains additional features.
Interface buttons are few and straightforward, making it easy to understand. However, if you're not sure;
Plus and minus signs set the bet amount per spin
The yellow button starts a game and spins the reels once
Now, playing Diamond Blitz Slot machine is simple. If you're playing the free version, you'll just need to create winning combinations containing not less than 3 similar symbols. And for that, one must land these symbols on any payline side by side. Those who land more symbols have better payouts.
However, you'll need to indicate your bet amount first. We advise playing with maximum stakes because there's a multiplier payout. Once that's done, start spinning the reels by clicking the yellow button. Continue spinning until you win or trigger a bonus.
Bonus Games and Scatter Symbols?
Diamond Blitz doesn't have scatter symbols since it focuses on Wilds. It illustrates wild symbols that have awesome features. And they turn into Falling Wilds when they fall with each spin till they reach the bottom row. But, this feature is paid for. Also, players can grab free bonus spins but this depends on a casino site.
What Triggers the Bonus Games?
We've already talked about Blitz Mode which is this game's free spins feature. Now, there isn't anything much you can do to trigger this since it's triggered at random times, which makes this game even more attractive because winning here is easier than in the base game. Note that players begin by 5 free spins however with each wild that reaches the bottom row, you'll get 1 extra spin added.
Conclusion – Diamond Blitz Slot Review
Well, the Diamond Blitz online slot is a properly done fruit slot game. However for veteran casino players, don't expect much action in the base game. Players rarely land significant wins even with the dropping wilds feature. Therefore, one will need to wait for free spins since this is where they can win big.
Nevertheless, this game is still exciting and comes with huge progressive jackpots. Plus, because it's a classic slot game, it allows one to play on their mobile. Therefore, you stand a chance of winning the incredible jackpot regardless of where you are.