Pros
Random Girl Power Bonus
Recharge Free Spins Feature
Multiplier can grow up to 20x
Play Moon Princess for Real Money

Moon Princess Slot is built on the Playn' GO software, has 5 reels and 27 paylines. It has a 5X5 grid design that is set in a gold frame, and has a moonlit sky with a purple hue, as a background. Moon Princess has coin size ranges from a low of 0.20 to a high of 100.
You can set the game to auto play for up to 100 spins.
With an RTP of 96.50%, a range of 1 to 20 coins per line, free spins, and a wild symbol that pays up to 500x your bet, moon princess slot is a thrill. Read on this Moon Princess Slot review to find out the various wins that await you, including the 5000x grand prize.
Moon Princess Slot Theme
Moon Princess Slot has a colorful anime and princess theme, with a random princess character being a centerpiece in each spin. Other themes that are incorporated in the Moon Princess slot include Asian, Magic, Fantasy, and Manga. They all work with the primary theme to give you a soft and enchanting gaming experience.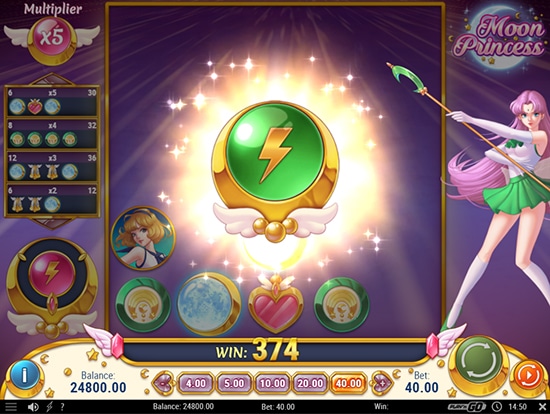 Game Controls
The heart symbol with a "minus sign" allows you to lower your bet, while the one with a "plus sign" allows you to increase your bet.
You may also choose to set the game to auto play. To do that, click on the "auto play" control on the bottom left. A settings window with options for choosing your autospin settings will appear.
Use it to set the number of spins and other autospin conditions.
Moon Princess Slot High Paying Symbols
Moon Wild Symbol
The moon wild symbol gives you 100 coins if it appears five times in a payline, 6 coins if it appears four times, and 2 coins if it appears just three times. For you to get a win, the symbols must appear in a row. The row formed can be vertical, or horizontal.
That rule applies to other Moon Princess winning symbols as well.
Moon Princess
If you get any of the three moon Princesses symbols lined up, then you get a win. Five princesses symbols lined will win you 20 coins, four will get you 2 coins, and three will get you 0.60 coins.
During a non-win spin, a princess can use her girl-power to help you win. However, each one does it differently. Here is how they do it:
Love Princess
The love princess has a pink color theme, and they can transform one set of symbols into other symbols. The new symbols may not include a wild, but they increase your chance of getting an instant winning combination, in the current spin.
Star Princess
The star princess has the power to create up to two wild symbols, which can give you a winning combination, in the current spin. She has a blue color theme.
Storm Princess
She has green color theme, and she can strike down two set of symbols. That gives you a second chance to get two new symbols. If you are lucky, the two new symbols may give a winning combination in the current spin.
The symbols that the princesses generate do not guarantee a winning combination. However, they sometimes lead to a massive win, and it is that uncertainty that creates a thrill.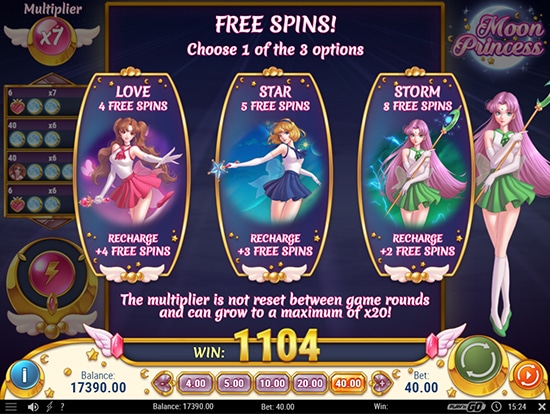 Other Winning Moon Princes Symbols and Events
Bell, Hearts, Star, and Green Circle
The Bell, Hearts, Star and Green Circle symbols offer similar winnings, when you match three or more symbols. Three Bells win you 0.03 coins, four Bells will get you 0.06 coins, and five Bells will get you 0.60 coins. That applies to the other three symbols as well.
Princess Trinity
The Princess Trinity is a meter that gets filled, as you get more wins triggered by the princesses. Three winning princess symbols fill one section, four winning princess symbols fill two sections, and five winning princess symbols fill all the three sections.
Once it is full, it triggers the Princess Trinity free round. During that free round, each princess can use her special powers. That gives you multiple chances of winning, including the maximum prize of 5000x, if you get all wilds.
Free Spins
Anytime that you end up with a slot clear of symbols, that event triggers free spins. The slot then displays the three princesses, with each representing an undisclosed number of free spins. If you the right princess, you get more free spins.
The multiplier does not reset during a free spin triggered by the clearing of symbols from the reels.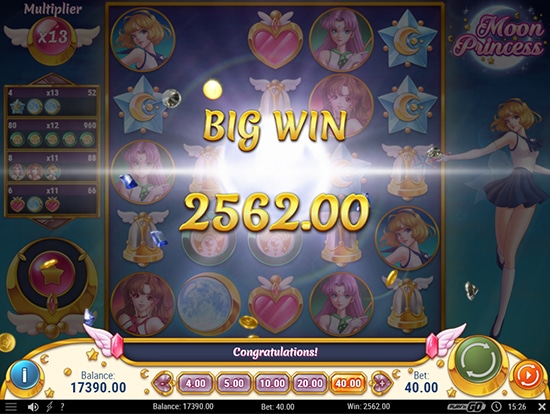 Conclusion – Moon Princess Slot Review
Moon Princess offers a low to moderate payout, but with a higher RTP of 96.50%. Moreover, if you hit the highest win of 5000x, while your bet is set to the maximum of 100, you are sure of making bank.
Overall, if you want to pass time having fun, and a chance to win big if lucky, then Moon Princess Slot is the game for you. Each spin is an adventure.