Pros
Progressive Jackpot over $1 million
Free Spins Bonus Feature
For those who love playing slots, Aztec's Millions has got you covered. While there are other flashier video online slots, many love this because of its impressive progressive jackpot that can see one go home with many dollars.
While this 5 reel and 25-payline slot has a simple design, it features exciting symbols and characters that will attract you to it.
Apart from its progressive jackpot, individuals can trigger various bonuses, which can make their gameplay exciting. Read on to learn more about Aztecs Millions Slot and whether it is worth a try.
Play Aztec's Millions Slot for Real Money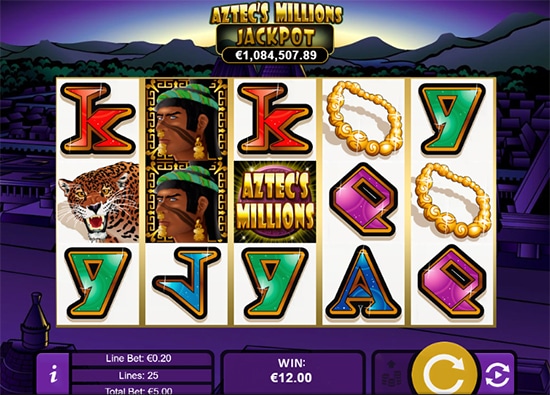 Software Provider and Theme
Aztec's Million was developed by Realtime Gaming (RTG) in 2015. After Aztec's Treasurer was successful, this company spiced things up for players by creating a slot game with a higher payline and a bigger progressive jackpot. Realtime Gaming develops casino software that can be downloaded. It was established in Atalanta in 1998.
However, they moved their developments to Heredia in 2018, which is this company's headquarters. But the software tools they provide do not allow players to choose payout settings for their games. Aztec's Millions has a payout of 5000x multiplier. RTG offers this game with an RTP of 95%. Its progressive jackpot makes this slot worth playing.
The previous Aztec Treasure gave RTG experience in designing a slot with an Aztec theme and culture. Therefore, the development of this Aztec-themed game wasn't that difficult. RTG noted and corrected the mistakes of previous slots and made some changes with this new one. A notable change was that players aren't able to choose the bet size that they prefer.
This video slot features some interesting symbols that we will talk about later in this guide. However, we should mention that scatters appearing on the screen multiply a player's bet by 3, 15, and 100 times and also awards a player free spins when prizes are tripled. Unlike other top slots that feature bright colors, Aztec's Millions has a dark background that makes symbols more apparent.
Aztec's Millions Features
An impressive feature of Aztec's Millions is its free spins. Players activate this once they land a golden idol symbol thrice or more times across the reels. When this happens, you're given five spins for free if you land 3 and 15 and 25 spins if landing four. All prizes are trebled during these spins apart from the progressive jackpot, of course. Also, each scatters symbol that appears during these free spins gives you a bonus prize.
Another feature is the progressive jackpot that is set at a minimum amount of $1 million. But, it increases as the game continues. This huge amount for the jackpot is why Aztec has a fixed number of lines and bet size. As such, all players have an equal winning chance.
It's also essential to talk about the one-line betting strategy. While it sounds unreasonable to bet on one line when playing a multiline slot, this strategy helps lower the amount you use on every spin and gives you better chances of getting a higher payout.
However, the only drawbacks are that you can only win the base game on the centerline, and you could play for a long time without getting a real reward. Unfortunately, Aztec's Million features fixed paylines. Hence this strategy can't be applied.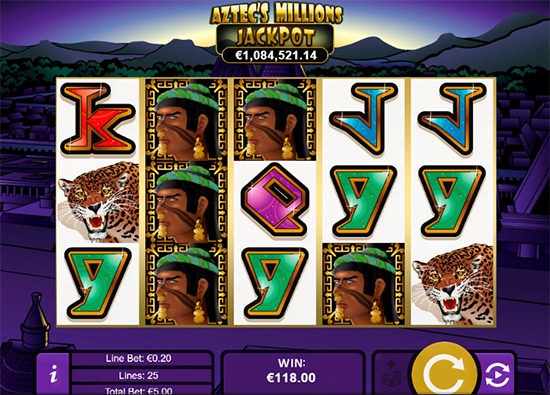 What is on the Reels?
Symbols used in this game are best on the Aztec theme. These symbols have different values. Card values on the low-paying symbols range from 9-Ace. An idol symbol acts as the scatter offering 20x, 3x, and 0.6x bet for every line when a player lands five, four, or three in the reels. There is also an Aztec Queen that offers one thousand times bet per line if you land five on a payline and 100x, 20x, and 0.4x/line for landing 4, 3, and 2 symbols. Other symbols are;
Trigger symbol- offers 500x, 50x, 20x, and 1x/line for hitting 5, 4, 3, and 2, of these symbols
Native hardness, which features a payout of 1x, 10x, 20x, and 200x four landing two, three, four, and five on the reels.
Necklace and treasure- players landing five, four, or three of a kind are given similar rewards of 100x, 15x, and 3x for every line.
Lower paying symbols- like A and K that offer forty times for five of a kind, and Q and J reward 30 times bet per line.
Other than these regular symbols, there are others that can trigger special features in this game.
For instance, there's a wild symbol that can substitute for others. And there's the golden idol that's a scatter symbol, featuring great chances for gathering extra coins.
What Are the Bonus Games?
Aztec's Millions doesn't have bonus games. However, players are offered a free spins feature if they land idol symbols. Therefore, the more free spins you get increases your ultimate payout. Note that this game also continuously gives non-bonus and non-progressive wins, which are multiplied three times. Additionally, players can get a free spins for scatters appearing when they are playing.
Again, there's also the free play mode for those who don't like risking. It gives you a chance to practice, learn and perfect your casino moves without investing any money. However, this free play mode can still be advantageous even to experienced players during the swell time. This way, they'll be assured that they won't incur any financial loss while playing.
The free play demo is just like the cash version, only that awards are virtual funds instead of real money. However, these funds can be useful when checking how frequently this game pays out. It's why players love a demo version as it gives them a chance to gambling without the stress of wagering their real money.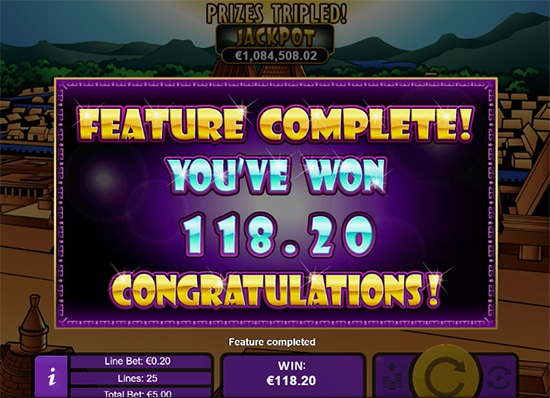 What Triggers the Bonus Games?
The Aztec Idol symbol triggers free spin bonuses. Once three or more of these symbols appear, the game will automatically trigger a free spin bonus. You're granted 5, 15, or 25 free spins, depending on how many symbols you spin. If the symbols appear thrice, four times, or five times, you get 5, 10, and 25 free spins.
However, there are ways that players can re-trigger the bonus. During free spins, you'll only need one Aztec Idol to trigger an extra free spin. So if it appears as only one, you can get an extra free spin. As you can re-trigger free spins over and over, it means that you can get an unlimited number of extra free spins. Once a particular round is over, you are taken back to the regular game. Then your bonuses will be automatically added to your winning totals.
Progressive Jackpot
Additionally, it is also essential that we talk about the progressive jackpot this game awards. This simply means that you don't just get cash as a fixed payout amount. Rather, you can accumulate the value over time. Therefore, you should keep tabs with this jackpot when it is updated to decide whether or not you are interested.
Anyone can win the jackpot regardless of where they are. Once it is won, all players are notified. They then have to wait for some time for another prize pool to be added. If a person wins the whole pot, the jackpot resets to $1 million. This game always highlights how a jackpot's value is on the screen. But, there are various conditions that you should meet to win.
One is that players must play Aztec's Millions with real money. Those playing with some features or for free can't win the jackpot. You should also check games that offer a jackpot for their demo mode although they are not common.
Once you play and bet with real money, you only need the symbol, which is the game's logo featuring a golden text and a similar name. Spinning between 1-4 of these symbols won't give you anything. However, when you spin five in a sequence, you'll win the full jackpot as long as you've met the other conditions.
Again, you should understand this game's volatility. While wins do occur, they are not that big. However, you can increase your payout by triggering bonuses or the progressive jackpot. Additionally, players can't change the volatility of this game because it features fixed paylines. But its maximum payout of 5000x is impressive to attract you to spin.
Conclusion – Aztec's Millions Slot Review
Aztec's Millions slot game continues to get the attention of many players. Although its $5 fixed bet can seem a bit higher, the progressive prizes make this game worth a try. While you can land a huge jackpot, you can also trigger free spins that may boost your overall payout amount.
The game is available on mobile and works well on Android and iOS software. Players can deposit and withdraw on this mobile version and play for real money and even stand a chance of winning the progressive jackpot.